​James E. Fitzgerald (1899-1971) was born in Boston, MA. By the age of four, his artistic talents were recognized, and a studio space was created for him in his parent's attic. As a child, he would visit his grandparent's farm in Milton, MA, where he began a lifelong love of painting horses. After serving in the U.S. Marine Corps (1918-1919), he enrolled in the Massachusetts Normal Art School (later Massachusetts College of Art & Design, 1919-1923), and subsequently at the School of the Museum of Fine Arts, Boston (1923-24). During semester break in 1923, he shipped aboard the Elizabeth Howard out of Gloucester, MA, initially to paint and sketch, but following a violent storm that left one sailor injured, he joined the crew and learned to jump into the dories for halibut fishing off the Grand Banks. In 1924 he made his first visit to Monhegan Island, ME.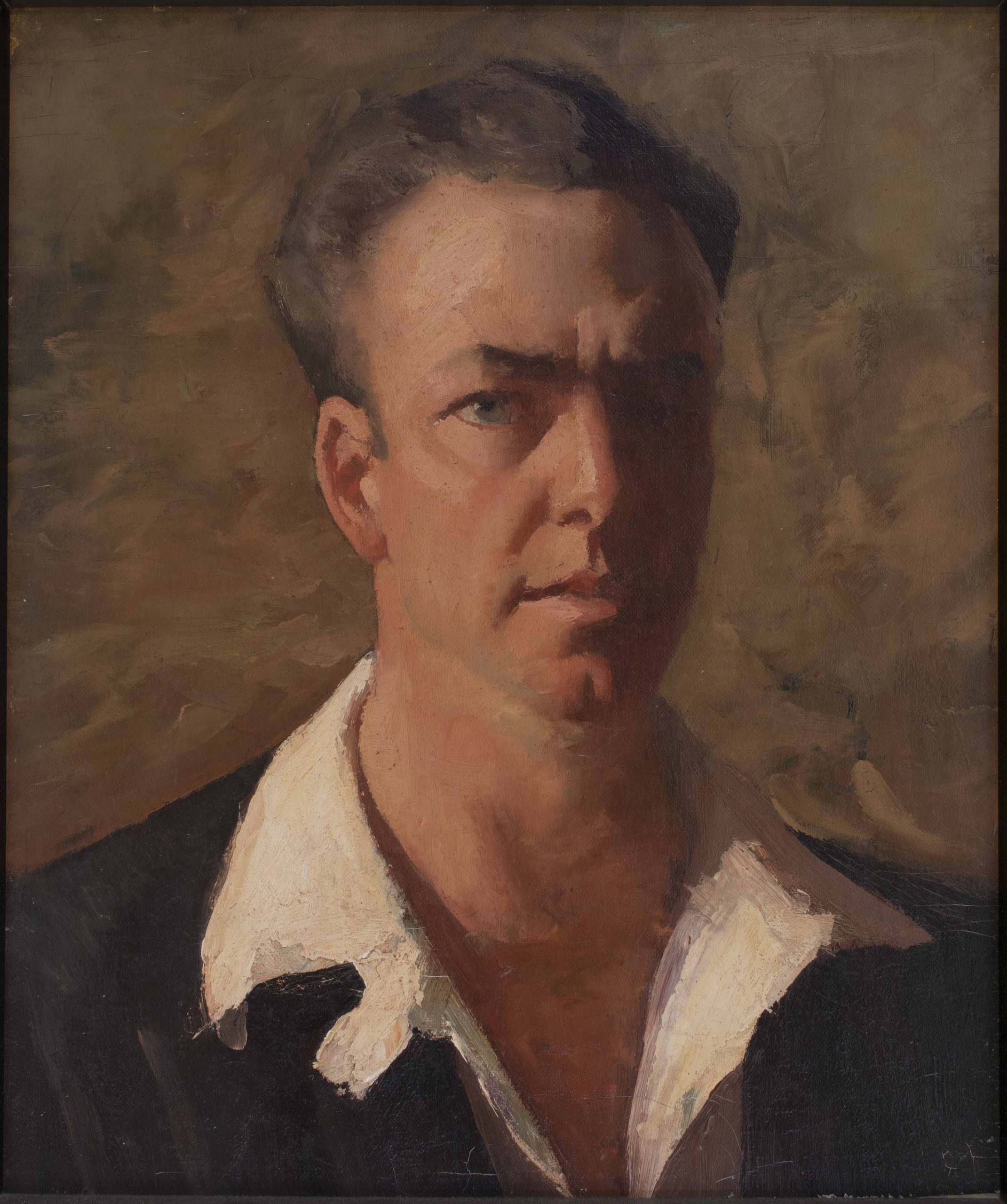 In 1928, Fitzgerald sailed as an able bodied seaman on the Dorothy Luckenbach out of New York City, working his way to the West coast. Although he had intended to reach Alaska, his travels took him to Monterey, CA, where he settled, built a home/studio, and married. While in Monterey, he became a part of the circle of friends who gathered at the Cannery Row marine biology laboratory of Edward 'Doc' Ricketts. The group included John Steinbeck, Krishnamurti, Robinson Jeffers, John Cage and Joseph Campbell, among others. During this time, Fitzgerald's interest in Eastern philosophy matured, and he brought to his art its principles, seeking to express the inner vitality or spiritual rhythm of his subjects.
Fitzgerald exhibited extensively in California during the 1930s, twice winning first prize for watercolors in statewide competitions. During those years, he made excursions from Monterey to Taos and the California mountains, and continued to travel east to paint on Monhegan, eventually deciding to settle there in 1943. Its remoteness led to the dissolution of his marriage, and Fitzgerald, who in the 1940s was represented by the Robert C. Vose Galleries, Boston, gradually withdrew from the commercial art world so to direct all his creative energies to painting.
On Monhegan, Fitzgerald became part of the year-round community, purchasing first the studio and then the house built by Rockwell Kent in the first decade of the twentieth century. As a studio artist, he was seen standing for hours capturing mentally the cliffs, gulls, or fishermen as they worked, returning to his easel to paint. His images of gulls wheeling over fishermen cleaning cod on Monhegan's Fish Beach have become iconic.
In those years, a lasting friendship developed with Anne M. Hubert, who along with her husband Edgar, eventually became his executors and heirs. For the last 25 years of his life, Fitzgerald visited Katahdin in the off-season to paint, and in the late 1960s he visited Ireland several times, where he died on the island of Aranmore off the coast of Donegal suddenly in April 1971.
The Huberts, his executors and heirs, preserved, protected and promoted his work for the rest of their lives, and in turn gifted his estate to the Monhegan Museum in 2003. Fitzgerald's home and studio are on the National Registry of Historic Places and are a member site within the National Trust for Historic Preservation's Historic Artists' Homes and Studios program. The James Fitzgerald Legacy, a branch of the Monhegan Museum of Art & History, represents his estate and carries on the tradition of preserving and promoting his work.